They say writers never die. If my dad, Leonard Gross, is any indication, that's absolutely true.
Two-plus years after Dad's death and 35 years after Simon & Schuster published The Last Jews in Berlin, which is based on interviews Dad did with Jews who went underground in Berlin during the war, Amazon selected his book as a Kindle Monthly Deal (KMD) last October. Apparently the promotion continues, since the kindle version is still being offered for just $2.99.
From the first, The Last Jews in Berlin, which reads like a thriller, drew immediate acclaim.
"The author's skillful selection of detail and his narrative drive have created the type of footnote [to history] that illuminates an entire subject," crowed The New York Times Book Review.
"A tour de force . . . A consummately suspenseful narrative . . . remindful, in [its] exquisite detail, of Capote's In Cold Blood," wrote the The Los Angeles Times.
With reviews like that, you would think the book would have flown off the shelves. Not so much. A mass paperback followed in 1983, and a year later the HBO movie Forbidden, based on one of the stories in the book and starring Jacqueline Bisset, Jürgen Prochnow. Still nothing.
The Last Jews in Berlin was republished by Basic Books as a trade paperback in 1999. While people continued to recognize the book's merit, it still did not capture the readership at large.
Fast forward to April 2015 when The Last Jews in Berlin, which had been published that year as an ebook by Open Road Media, finally caught on. I mean really caught on. The afternoon that Dad died at the age of 87, my brother Jeff and I received word that The Last Jews in Berlin had hit #8 on the Amazon bestseller list an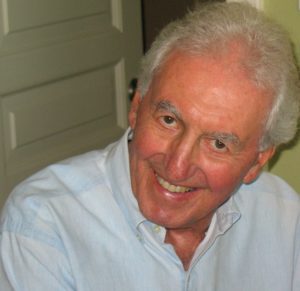 d #5 on Barnes & Noble's bestseller list thanks to Open Book Media's promotional campaign. Shortly thereafter, more than three decades after its original publication, The Last Jews in Berlin hit both the New York Times and Wall Street Journal bestseller lists.
And now, Amazon is celebrating The Last Jews in Berlin again.
I wish Dad were here to see the success of what I always believed was his best book, a book through which he lives on.
Hopefully, somehow, he now knows that writers never die.
Please follow and like us: