Every so often, we all need a reset. A time to let all the doing fall away, to steer clear of the noise of our lives and to remember what matters, which just might be a little writing inspiration.
With that in mind, greetings from Paris where I arrived some ten days ago. Or should I say where I returned ten days ago. Although I last visited almost nine years ago, I always feel as if I'm coming home, the result of having grown up here from ages 10 to 15. And this time I get to stay for four weeks.
The excuse for such a long visit, aside from my lengthy absence, includes reclaiming my French and researching a children's book I've wanted to work on for decades. I may know a lot about writing and editing novels and nonfiction, but writing for kids…well, not so much. So before leaving the States, I immersed myself in as many how-to-write-for-children books as I could find in my own library.
I was going to share those insights in this post, but that will have to wait until I'm back home. Paris, you see, is already doing its job.
Yesterday, the first bluebird day since my arrival, I sat at an outside café table at the Trocadero enjoying the sun and the scene. I had walked there from where I'm staying, through a lovely park I used to stroll in with then best friend Maria Shriver, past the Ecole Active Bilingue, the school we attended, up to the Arc de Triomphe and then west to the Palais de Chaillot for the city's best view of the Eiffel Tower. I had even taken photos of friend and writing coach client David Rosell 's new book with the Paris landmark in the background.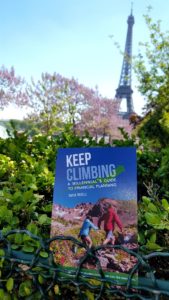 I had planned to head down to the Seine and walk along its border until I reached the Louvre, where I would finally catch a bus home after nine miles of hoofing.
"You have to get up if you're going to make it back for your writing coach sessions," I thought to myself. I made yet another mental note about how wonderful it was to be able to bring my clients with me—at least through our phone sessions—and continue working with them from here. Even that, however, didn't prompt me to move.
Five minutes sidled by. Then another five. Pretty soon a quarter of an hour had passed. Then another. I had already paid the bill. I knew I would have to speed along instead of strolling back home if I wanted to stick to my plan. But I couldn't tear myself away from the sun or the absolute quiet in my brain.
When I finally left the cafe, I took both with me—down to the Seine, along the quai, past the newly developed riverside park and the barges. And before I had even arrived at the bus stop for the 95 towards Montmartre, the first half of my kids' book had taken shape. Talk about writing inspiration!
I've got two more weeks in Paris, a long weekend in Lisbon, and a week in Vienna and Prague followed by a cruise in the Croatian Islands. All will be fodder for my kids' book series. And I hope all will be just as intoxicatingly replenishing. So forgive me if I miss a few more blog entries. I've gone back to the well.
Perhaps that's something you might want to do this summer. You'll be surprised at how clear you can get when you're not trying so hard to find that writing inspiration.
Please follow and like us: