Linden's Book Titles
The breadth of Linden's writing experience can only be described as ridiculously wide-ranging. Here's a sampling of the books she's written:
:
Each year, 3.4 million Americans are stalked. Most remain in the dark not knowing where to turn. That ignorance can put those stalked, their families, friends and even co-workers at risk. Surviving a Stalker: Everything You Need to Know to Keep Yourself Safe by Linden Gross is the first book ever written about the stalking of ordinary people. Updated. revised and re-titled in 2000, this book still holds up as the quintessential resource on understanding a dynamic that destroys too many lives.
How do you meld screaming pain, a mystery illness, broken dreams, fighting back against health institutions that are failing you and, oh yes, romance into a single memoir? That was Linden's challenge when she decided to collaborate with Cynthia Toussaint, a woman who literally refused to accept the life she had been handed when a seemingly minor leg injury morphed into a body-, mind- and soul-consuming dragon. This brutally honest story of trial by fire, literally, and ultimately of reinvention and redemption will open your eyes and make your spirit soar.
Linden's recent collaboration with Tierney Cahill, a sixth-grade teacher who ran for Congress on a dare from her students, was one of Random House's main releases in fall, 2008. Ms. Cahill for Congress tells the remarkable true tale of a teacher who ran a grassroots campaign for Congress from her classroom. The story is being made into the forthcoming movie "Class Act" starring Halle Berry.
Linden crafted Charles Schwab's and Carrie Schwab Pomerantz's book It Pays to Talk (Crown, 2003), about the importance of discussing money matters with mates, children and parents. Publishers Weekly says: "This well-rounded primer provides one-stop shopping for the many phases of financial understanding and planning. It delivers comprehensive investment particulars with the necessary charts, graphs and illustrative anecdotes. Schwab-Pomerantz often uses her own life as an example, and while she has far more experience with money and investing than the average person, she wears the same personal hats-parent, child, spouse-as readers. … This educational volume provides a useful framework that a family can refer to when approaching those often difficult but necessary conversations about finances."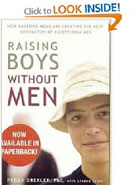 RAISING BOYS WITHOUT MEN

Linden's collaboration with Peggy Drexler, Ph.D. titled Raising Boys Without Men (Random House, 2005) about lesbian and single mothers of sons was a finalist for a Better Life Award, which recognizes and pays tribute to outstanding and influential self-help, motivational, self-improvement or advice books. The book was also a finalist for the Lambda Literary Awards. The Lambda Literary Foundation celebrates achievements in lesbian, gay, bisexual and transgender (LGBT) literature. The Times Literary Supplement claims that it "cheerfully and expertly disassembles several centuries' worth of conventional wisdom on the subject of fatherless boys."
Linden wrote Son of a Preacher Man (Harper San Francisco, 2001), the book which garnered author Jay Bakker so much media attention. Publishers Weekly says: "From the opening epigram (a passage from Romans about learning from trials and adversities) to the rousing concluding chapter, this memoir by the son of the scandal-ridden televangelists Jim and Tammy Faye Bakker inspires, captivates and entertains…Readers are sure to love Bakker's delightfully down-to-earth, slightly self-mocking tone ('For a while I thought I was Jim Morrison,' he says about his acid-tripping, cowboy-boot-sporting days in high school), and we hope he'll somehow carve out time to write more books."