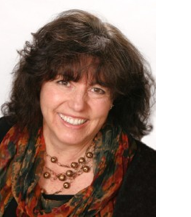 Linden Gross is a bestselling writer, national magazine journalist, writing coach, blog coach and author. Her focus and talents—to say nothing of the attitude and sense of humor it takes to be a successful freelancer—can only be described as ridiculously wide-ranging.
Linden writes books, her most recent being Surviving a Stalker: Everything You Need to Know to Keep Yourself Safe (Marlowe & Company, 2000).
Bestselling Writer
Linden writes other people's tomes, notably Julia Butterfly Hill's national bestseller The Legacy of Luna (Harper San Francisco, 2000).
Drawing on her editing and writing background, as well as her love and experience with teaching, Linden works as a writing coach to help people write their books, their marketing and their blogs. She helps them organize their time, their thoughts and their material, and then helps them develop the project week by week. She does much the same in her role of editor and/ or book doctor, simply operating alone instead of on a team.
Journalist
Formerly Special Features Editor for the Los Angeles Times Magazine and associate editor for the Ladies' Home Journal, she has written for the Reader's Digest, Cosmopolitan, Ms., Self, Redbook, Parents, US, TV Guide, SF Weekly and for five years wrote a bimonthly column for Woman's Own magazine.
Publisher
In 2006, she started Incubation Press, which specializes in print-on-demand publishing. Clients—whether family historians ordering ten to twenty copies of their story, authors ordering dozens of review copies of their manuscript, or commercial enterprises ordering hundreds of copies of promotional booklets—receive their printed and bound trade paperbacks within days. All retain 100 percent of their rights and 100 percent control of this easy and economical publishing process.
Beyond Writing
Finally, Linden continues to press for the social changes that her books To Have or To Harm and Surviving a Stalker revealed as necessary. Linden is an active public speaker with multiple radio interviews, television appearances and speaking engagements to her credit. The www.stalkingvictims.com website and series of pamphlets she has created—part of the Stalking Survivors' Sanctuary & Solutions non-profit organization she founded—provide life-saving information to victims and safety professionals alike.