A writing success always requires the rewriting of one's initial drafts. This new true crime story, written by one of my writing coach clients, is a great example of that.
When retired lawyer and former police officer J. Andre Boles had me critique his nonfiction manuscript about the murder of one of Reno's most liked and respected police officers, I wrote:
You've provided an amazing recap of events. But we don't want to report on the reporting that's been done. To make this work as a book, we want to let the reader feel like he/she is vicariously living those events. That means recreating dialog (internal as well as external if possible) instead of summaries or transcripts of what was said. It means letting me, the reader, see and hear and experience what happened detail by detail.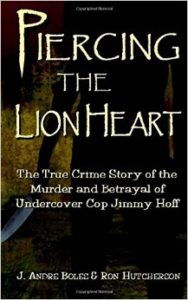 Boles did his job. Piercing the Lion Heart: The True Crime Story of the Murder and Betrayal of Undercover Cop Jimmy Hoff, which he co-authored with journalist-turned-lawyer (now retired) Ron Hutcherson, makes you feel like you're ringside. In this action-packed account, which was published in December, you meet undercover narcotics agent Jimmy Hoff, grow to understand why he's so loved and witness him planning what was supposed to be the biggest hand-to-hand buy—and bust—in the history of the Reno Police Department. You cringe as you watch the deal go from bad snafus to the worst possible outcome, resulting in Jimmy's murder. You're there for the arrest of the four killers and the subsequent 37 years littered with (in the words of the book jacket copy) "lousy lawyers, lost evidence and questionable police testimony… Meanwhile, the tainted Nevada justice system marches on." 
"Riveting," says an Amazon reviewer. "Great storytelling."
Congratulations, Andy! All those years of research, writing and re-writing have paid off. I couldn't be prouder of what can only be called your writing success.
Please follow and like us: